When we started Kids Club nearly 23 years ago, nothing like Facebook, Twitter or Instagram existed. If we were chatting and I'd have had said to you "I'll send you a text," you would have looked at me with a blank face!
As communication evolves, so must we. That is why we have introduced the Out of Hours Kids' Club ParentApp.
With this app, you will receive notifications from us about the Kids Club that your child attends. As we operate at five different schools, we deal with a lot of different messages every day, which is why we are hoping that this will help streamline our outgoing communication.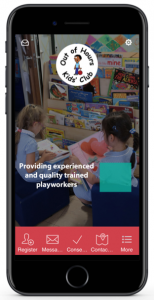 You can download the app by searching for "Out of Hours Kids' Club" in either the Apple App Store or Google Play App Store and download the app that displays our logo.
Please enter the following Username and Password the first time you use the app:
Username: outofhourskidsclub
Password: parent
Once you have logged in, please make sure you complete the Register Form the first time you log in to the app.
The app provides instant access to newsletters, outgoing messages from us to you, booking forms, links to the website and many more features that will be developed over time.
We will also be using the app to send out push notifications. These are messages that are sent directly to all those parents that have downloaded the app.
If you own an iPhone, when you download the app for the first time it will trigger the following pop ups:
Offline Caching, Location and, Enable Push Notifications
1. Offline Caching please select Yes.
2. Allow access to your location.
This is a standard Apple request. We by no means know or have access to anyone's location but you need to select Yes in order to receive push notifications from the club.
3. The next message is to then enable push notifications. This is important that you select Notify Me.
4. The last message will say "The Club will like to send you Notifications" please press OK.
Android Permissions
On some Android handsets, the app requests permission to access the devices contacts and photos. This permission is required to access the contact and photo FUNCTION and not the actual contacts or stored photos on the device. Access to the contact function is needed in order to share the app via text message, Whatsapp or email, as the app then needs to access the contact function to allow it to be shared.
Access to the photos function is needed, should you need to upload and return any documents that require a signature to the club.
Neither the club or ParentApps have access to anyone's personal information and it's purely a permission that's needed in order for the app to function properly on an Android device. These permissions are now becoming more common with a lot of Android. If anyone has any questions then please feel free to contact the club at info@outofhours-kidsclub.com or 0151 306 4775. The privacy policy is contained within each app.
Feel free to contact us with feedback on the app, or if you have any suggestions, please leave a comment!
Google Play Store Link: App Download
Apple iTunes App Store
Lauren McBride
Digital Manager
Out of Hours Kids' Club