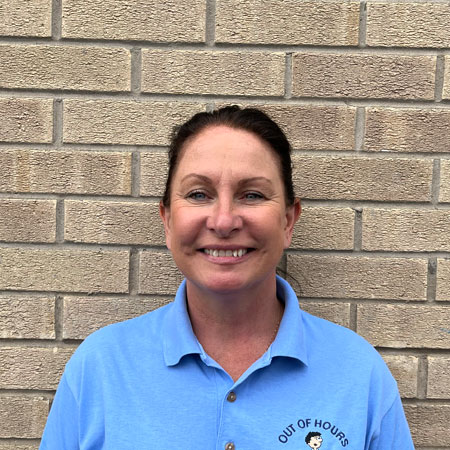 Hi there, my name is Claire and I am the Site Manager at Booker Avenue. Welcome to our Kids Club!
Opening Hours:
Breakfast Club: 7:45am – 9:00am
After School: 3:15pm – 5:45pm
Contact Numbers:
Breakfast Club: 07925221970 – Steph Lindsay, Breakfast Club Manager
After School: 07932155097 – Claire Jones, Site Manager
Please read the Booker Kids' Club Self Evaluation Form here
To register for Booker Kids' Club please use our online registration system, Kids Club HQ.
A day in the life at Booker Kids' Club!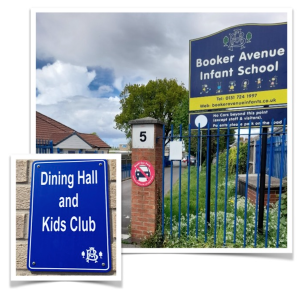 We start our day at 7:45am at Breakfast Club.
The entrance that we use for school is the Infants gates on Booker Avenue.
Kids' Club operates in the Junior Canteen, just next to the Infants reception. Steph is the Breakfast Club Manager – she will get you signed in and sat down in your seating area.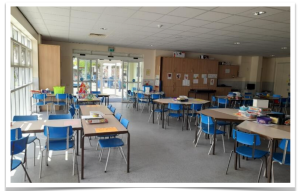 This is inside the canteen when it is set up for Kids' Club.
At Breakfast Club there is a big choice of food to eat, such as toast, fruit, cereals, yoghurts, pancakes and waffles. We cater to any kind of dietary requirements you may have – just let us know! In the morning we eat our breakfast, do some colouring in, play table top games or read. 

When it's time to go up to school, we make sure you've got everything with you, like your coat, book bag and water bottle and our members of staff will take you up to class just before 9:00am.
After School Club starts at about 3:15pm.
When you finish school for the day, the Kids' Club staff will be waiting for you at your classroom to walk you to the canteen where are based for the afternoon. The Reception children go with the staff to the Sunshine Room which is their own Kids' Club classroom, where they can play, do art and crafts, use the dressing up clothes and much more.
Claire is the Booker Site Manager. When we get into the canteen, we hang up our coats and jumpers on our chairs and put our water bottles on our table. Then we have some time to play or colour in before we do a register to make sure everybody is in, and we also have news time for anybody who has any news or stories to tell Kids' Club!
We let you know what is for snack and what we have planned for the afternoon. When we've done the register you can choose what you would like to do – play outside, do an art and craft activity, play games or read – whatever you like! If the weather is nice, we play outside on the playground, the football pitch and the grass. We have obstacle equipment, skipping, balls, scooter boards and much more!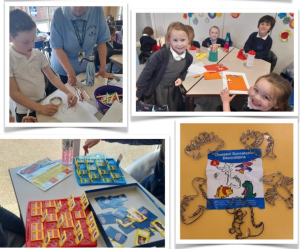 We have our snack at about 4:30pm. We have things like sandwiches, wraps, soup, cous-cous, beans on toast and always have cut up veggies, fruit and yoghurt for after.
We cater to any dietary requirements – just let us know!


After snack you carry on playing with whatever you like until you get picked up. We have lots of fun board games, pool, table football, construction, lego, dolls and all sorts of art and craft activities to do every day. Kids' Club closes at 5:45pm and we start again the next day at 7:45am for breakfast club!