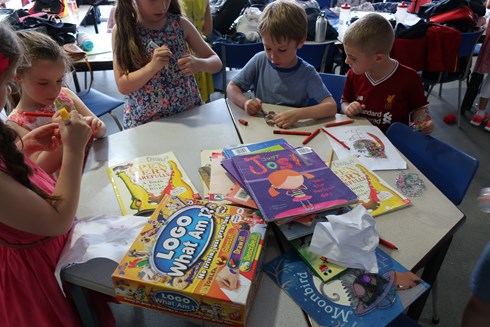 Out of Hours Kids' Club provides onsite wrap around childcare at the following schools:
Booker Avenue School, Liverpool 18. Ofsted Number: 322447
Dovedale Primary School, Liverpool 18. Ofsted Number: 503961
Woolton Primary School, Liverpool 25. Ofsted Number: 322449
All sites operate After School Clubs and Breakfast Club facilities.
Fees for 2022/2023:
Breakfast Club Fee: £5.70
Full week Breakfast Club: £27.50 (including £1 discount)
After School Fee: £11.80
Full week After School: £54 (including £5 discount)
Our Story
Our office based in Mossley Hill employs five full-time members of staff who are available to take messages for site, help with the registration process, plan and prepare activities and ensure the essential paperwork is up to date for our governing bodies, like DBS (Disclosure and Barring Service) and OFSTED (The Office for Standards in Education).
Feel free to call the office with any questions you may have for us, on 0151 306 4775.
Our staff work aim to work as closely as possible on a 1:8 ratio across our 4-12 age range. Ofsted have removed this ratio, but we aim to maintain it where possible for good practice. Across the sites our staff range in age and reflect the local communities. We employ male and female staff with different social and cultural backgrounds.
The children are encouraged to participate in a wide range of play opportunities from sports and outdoor play, including; construction with Lego, Duplo, wooden blocks, stickle bricks and Popoids, dressing up clothes and role play areas, quieter areas with reading and C.D.'s, art & craft sessions and outdoor play activities. We also involve the children in the planning and preparation of snacks and break-time, sometimes using this as a cookery activity.
We encourage dialogue with our parents around their children and have a requirement to share information with schools for the Early Years Foundation Stage children (4-5 years) other ages where necessary, for our management of any special needs and other requirements.
Our hope is that the children see us as part of their extended family for the period of their time with us. Many children who were with us at the start of the venture, over twentyseven years ago are now working adults. We see them and their parents at various times and are often delighted when they share their memories of Kids' Club with us. We have continued our relationship with some of the children, by them coming to do work experience at the age of fourteen, and some actually have come back to work with us!
For more information please click on the site pages above or call us on 0151 306 4775 during our office hours of 10:00am – 5:30pm Monday to Friday.
To contact individual Kids' Club Site Managers, please call:
Booker Avenue: Claire Jones – 07932 155 097
Dovedale: Sarah Barnard – 07960 416 559
Woolton: Rosemarie Whyte – 07960 417 379
Payments
At Out of Hours Kids' Club, we strive for excellence in all forms of operating. We aim to keep the children, parents/carers, and staff happy and safe at all times. To ensure that each Site Manager is dedicated to the wellbeing and flow of the site, we have decided to centralise our payment system, so parents will no longer be able to make cheque or cash payments on site.
You will be able to pay through the following methods: Childcare Vouchers, BACS (bank transfer) Standing Order, Pre-authorised Invoices or Tax-Free Childcare Payments.
If you have any questions around payments, please feel free to call us on 0151 306 4775, or email finance@outofhours-kidsclub.com.
If you are using Tax Free Childcare, please use the following Ofsted Registration numbers as our setting identifier:
Booker Avenue: 322447, L18 9SB
Dovedale: 503961, L18 1JX
Woolton: 322449, L25 5NN
Childcare Voucher ID's:
Sodexo Carer ID: 130944
Care-4: 41175830
ComputerShare: 0007834569 and 0019572578 (either will work)
Edenred: P434089
Fideliti: outofhours001
KiddiVouchers: Out of Hours Kids Club
We can be identified on most Childcare Voucher Companies by searching for Out of Hours Kids' Club.
We have previously worked with the following companies in the past:
AllSave, Busy Bees, Care4, Computershare, Edenred, Employers for Childcare, Enjoy Benefits, FairCare, Fideliti, Flexible Benefits, Kiddivouchers, Kids Unlimited, Reward Gateway, Salary Exchange, Sodexo.
If you have any issues please get in contact with us: 0151 306 4775.
We value playwork, and actively promote the skills necessary to provide a fun and quality service. We operate family friendly policies, and promote the value of the excellent work that the playworkers provide.
About Us